If the summer heat is already affecting the comfort in your home, it might be time for a new AC system. There's a point where repairs add up and become more frequent, and energy costs usually add up too.
A new system can solve all of that, and keep your home comfortable through the worst that the season has to dish out. But buying an air conditioner isn't the same as choosing another appliance. While you could swap out one unit for another, going the extra mile to prep your home for the transition helps ensure a perfect fit.
Have a Home Energy Audit
While you could buy any new air conditioning system and have it installed, that's not the best way to go about it. Finding the right new system begins with a home energy audit. You can perform one yourself, but an HVAC technician will do a more comprehensive job.
A home energy audit looks for air leaks, poorly sealed windows and doors, sub-par insulation, ductwork leaks and many other issues as part of an overall evaluation of the condition of your home and it air conditioning needs. You can detect some of these issues on your own, such as drafts and an under-insulated attic. But an HVAC technician can use an infrared camera, and he can also perform a blower door and duct blaster test, which each work to find hidden air leaks throughout your home and ductwork.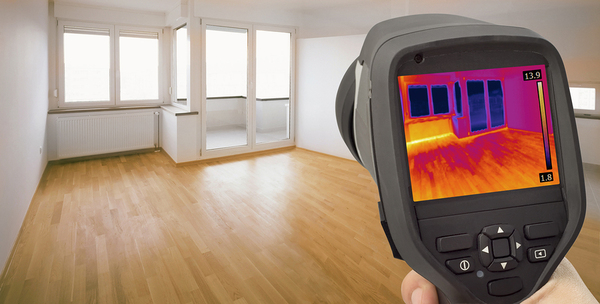 Thermal imaging can help you pinpoint areas where your home needs attention.
Correct Air Leaks and Other Problems
With the energy audit evaluation results in hand, the next step is correcting as many of the issues as you can. You can't alter the fact that the sun bears down on a certain side of your house. But you can have air ducts inspected, seal air leaks and improve many other areas. The more efficient your home, the more effective your new AC will be.
Ordinary caulk is the go-to product for small air leaks, such as those that are commonly found around windows, doors and baseboards. Larger gaps, such as openings around plumbing pipes and the dryer vent hose, respond well to different types of expanding foam or silicone. New insulation, duct sealing tape and a host of other supplies can help you upgrade your home from drafty to well-sealed.
Consult with Your Technician on a New AC
The technicalities of choosing a new AC can be overwhelming for the average home owner. Logic might suggest that the bigger the unit the better it will cool your home. But that's not really true. It's much better to buy a right-size unit than to overcompensate. Not only will you save money on the initial purchase, you'll also curb wasted energy and stay a lot more comfortable. Your technician will use a Manual J Load Calculation or something similar to get it right. This calculation considers numerous factors, including the home's square footage and geographic location.
An appropriate unit will cool your home without overworking plus remove humidity. A system that's the wrong size can't control humidity so you'll never feel truly comfortable. If the system is too large, the cycles won't last long enough to extract moisture from the air. And a small unit can't keep up at all. Although you'll make the final decision, your technician will arm you with the information needed to make that choice with confidence.